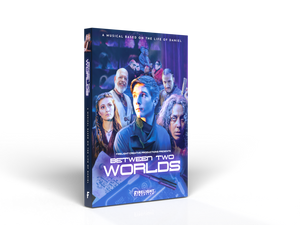 CAN THE MOST TIMID CHANGE A NATION 
Inspired by the story of the Old Testament Prophet, Daniel, Between Two Worlds is the second of Justin Rizzo's original musicals to become a stage film. Loosely based on the biblical account found in the book of Daniel, this fictionalized account tells of a time in history when technology and old-world values clashed as corrupt government leaders failed their people. Territory lines are redefined and loyalty is a thing of the past. Enter Daniel Abrams, a young man with a traditional upbringing and a respect for God and His laws. An energetic score of 21 original songs co-written by brothers Justin and Jon Rizzo, brings to life a creative script co-written by the pair, along with From Patmos collaborator, Alice Larson Scott. Facing the reality of imminent invasion from the rising city of Babylon and its sadistic ruler, Nebuchadnezzar, Daniel is forced to embrace the unknown and confront his doubts as he finds himself caught Between Two Worlds.
Runtime 1 hour 53 minutes.